Solar Energy Maps is a fast growing map database of thousands of solar roofs, solar parking lots and solar farms. We crowdsource data by using satellite map images to locate solar panels. Try it out! Our goal is to raise the awareness of growing renewable energy locations around the World. Share locations on the map where new solar roofs, solar parking lots and solar farms are being installed. See our demo on how to add new solar locations directly to the map. It is our goal to raise the awareness about the impact solar and renewable energy can have on reducing our dependence on oil and gas. I
Purpose of the Map
Our mission is to map solar locations with your help. Share solar farms, solar parking shades and solar roof locations on apartments, homes and companies. Here is an example of what a solar parking lot and solar roof looks like from a satellite image. This is CBS Studios solar parking and solar roof.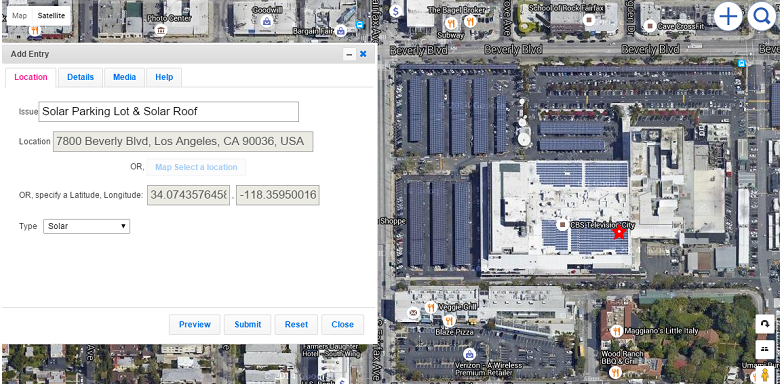 How To Submit New Solar Energy Locations To Map

Yellow Dots = Solar, Wind, Hydro Renewable Enegry Locations


Oil & Natural Gas Drilling Sites, Power Plants, Safety Issue, Refineries


Click on + to add yellow solar dot, enter address or click on map.


Describe new solar farm, solar parking lot canopy, or solar roof.
Detailed Video Instructions
How To Submit Multiple Solar Energy Sites to Map
Email [email protected] with a link to information about the site.
Maps Created With ZeeMaps